OUR ORIGIN, OUR DIFFERENCE
Third Generation On-Farm Butchers
Since my Grandfather's time, beginning in 1928, we have been privileged to farm here in Balinlough, Co. Meath. The land which is part of the Lough Crew Range, is prime Royal County grassland and is perfect for most farming activity, especially rearing cattle and sheep for producing the very best meat Ireland has to offer.
Our animals range free across our farm, which now includes our nearby Fattening Park in Kilskyre. We believe in ensuring that all our animals spend maximum time on the grass, a simple but very effective means of ensuring all our meat has an excellent taste and texture, that can only come from living a good outdoors life. All our lambs are meal-free and roam the land, given time to mature, which guarantees that excellent taste we all demand of Irish Lamb.
In recent years our farm was granted Bord Bia Approval. We are very proud to be one of only three export plants based on the farm in Ireland and work continiously to retain and build on our high standards where possible.
I trained for three years with Teagasc as I firmly believe in the necessity to fully understand all aspects of our meat production business.
When my Grandfather started out, he set very high standards, which have made the difference to the way we operate on the farm. Nothing is ever taken for granted, our curing methods and family recpies are a product of years of learning, improving and keeping up with modern standards and expectations.

We hope you enjoy the goods of your land.
VISIT US AT OUR MARKETS
Ryan's Farms Meats are currently available at:
Honest2Goodness Market
Glasnevin Sat 9.30am-4pm
Trim Market
Loman Street Fri 10am-5pm
Ryan's Farm Shop
Balinlough 9am-6pm Wed-fri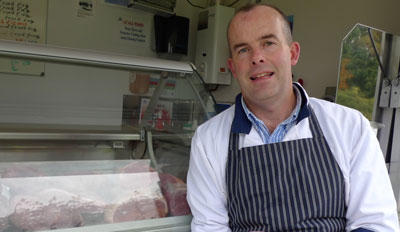 HAND-CRAFTED IRISH PORK
Ireland's Finest Dry-Cured Rasher, 80% Pork Sausages, Premium Quality Black & White Puddings, everything you need for a perfect Irish Breakfast

…MORE
DELICIOUS IRISH LAMB
100% Irish Lamb Burgers, Succulent Rack of Lamb. Lamb Cutlets, Gigot Lamb Chops & Lamb Pieces

…MORE
100% PRIME IRISH BEEF
100% Irish Beef Burgers, 28 Day Aged Steaks, Prime Striploin Roast, Premium Steak Mince & Beef Pieces

…MORE
STOCKISTS
Ryan's Farms Meats are available in
Meath SuperValu's

,

Honest2Goodness Market

, Glasnevin Sat 9.30am-4pm

Trim Market

, Loman Street, Fri 10am-5pm; and at our

Farm Shop

, Ballinlough 9am-6pm Wed-Fri
GET IN TOUCH –
087 985 7480